United Kingdom Unions

The yearbook team has done their own investigation on the rumor that the UK has been holding his own non-official Union. The individuals who have been interrogated have been released and are probably already planning more fun at union. We suggest to keep a close eye on the fellow attendees when one finds themselves on a union.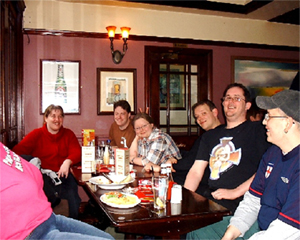 These gatherings have been known to take place at Scotland and in the London area. Except the official London Union this August they have been no takeovers from OTF-ers. Most of them lasted for a day, but weekend and whole weeks also have been known to happen. Both individuals admit to have loads of fun at these unions. And suggest that other should visit in the future. We warn all OTF-ers for all the fun they might miss out on, if one does not show up for future unions in the UK. Word even has reached us that certain OTF hotels have been opened for these occasions: Hotel Slayer and Babel's B & B accommodations.
A few excuses to go to these unions where: "London Union May: was also a weekend union, but due to a few other people, we stretched it to a week. Good: leant a bit more about my own capital by going around on a "Tour Bus" and visiting the "Tower of London" Deanna, TK and Zeddy holding my ginger nuts and spotted dick *LOL* Bad: having to finish and go back to work :(