Breaking News - Lzrman's Leap to Sin City!!
So it all started back in September of 2008, when Demon Slayer posted an advert for the 10 Year OTF Re-Union in Las Vegas, Nevada. I had a great interest in it, and with some push from Kaela and Shakeycat I actually decided on coming to a union for real and not just say Sure, I will come.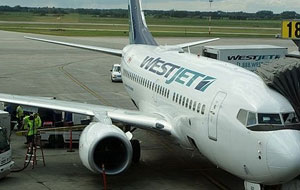 It was around January when the real discussion took place and I did some research on pricing for my trip of firsts. I hadn't ever been on a plane in my life, let alone leaving Canada to go to the United States on vacation.
February was coming up, and so was March, and the union was getting closer and closer. So I asked some personal friends who travel a lot when the best time to purchase a trip, and it was decided that May would be the best time.
Around that time I decided to inform my parents that I would take two weeks off of work and had decided to go to Vegas. My mom decided that she would come with me, which kind of did not float my boat, but she ended up coming along with me on my vacation!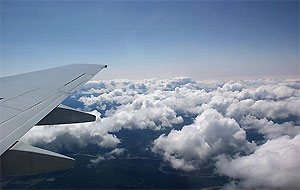 We booked our Hotel and Flight to Vegas a month in advance, and only then, when we landed on the strip, I told her the real reason why I had wanted to go to Vegas - to meet friends I have known for the past 9 years.
It was now June 28th 2009, the day we left home, and made our way connecting flights, through customs, and off to Vegas. We arrived safely on a Sunday night, took a shuttle to the Flamingo Hotel and got settled with everything. As our first official location we decided to go see the Fountains at the Bellagio and to just walk around the strip that night. For a majority of the 5 day period we were there the temperature was around 42 degrees Celsius, about 20 degrees higher then what we are used to in town, and it was nice.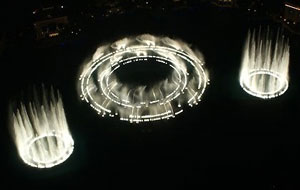 Tuesday Demon Slayer called the hotel we were at, and as I was still sleeping Mom interviewed him, asked him who he was, where he was from and told him I was still sleeping. Demon Slayer sent me a Facebook Message with his number so we could contact each other and arrange a meet-up time. Unfortunately, he mistyped a 5 instead of a 6, so that I called some random stranger named Ashley! That having failed, I called Kaela's cell phone and she was like all "Guess who I'm talking to!" to like everyone.
We arranged a time to meet at the Stratosphere Hotel at 10:00 AM on Thursday, and made it happen!
Got up Thursday morning, had breakfast and took "The Deuce" (Transit) to the Stratosphere! Walking into the Hotel I was greeted by Kaela, DS and Dominique! We then made our way up the escalator to meet the rest of the gang.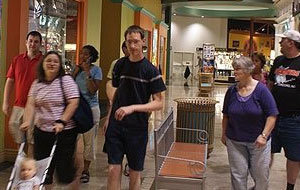 We all met upstairs in a Mexican restaurant, did introductions and signatures on the 8×10 photos I made, official pictures and hung out for the day, going on top of the Stratosphere and to Red Rock Canyon in their own Vehicles.
Although this was my first union and meet up, I knew who everyone was from the chatroom, so I wasn't that nervous to meet them in person. I think the person I wanted to meet the most was Demon Slayer and everyone. The one person I missed meeting was Paige, as she wasn't there on the Thursday when I met up with the group.
In summary, my first union experience turned out great! Got to meet some of the regular members of the Outpost and talk with, observe and respond to them. I would definitely recommend any member to come to an union, they are fun, especially when you jump into a car with people you haven't met yet in real life and go off into the middle of the desert. Closing off, I would however recommend bringing an additional camera lens, as mine died Wednesday Night when going across the Hoover Dam, with it all aglow. Overall the trip was great and I now have the bug of travel, till the next union.
Written by: Lzrman (CL6)